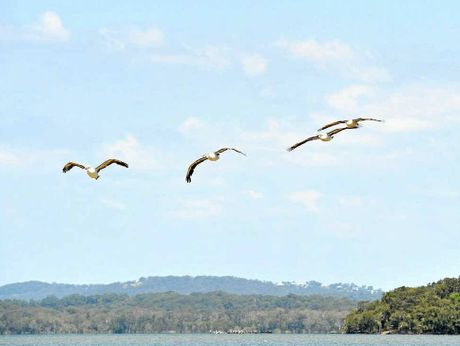 FRIENDS of Lake Weyba has challenged the State Government's granting of a biodiversity development offset area that has opened the way for a large-scale residential and aged care project.
And the group is refusing to accept the advice from Deputy Premier Jeff Seeney's office that the koala conservation land transfer at the heart of a potential development trade-off is legitimate.
Back in January, State Development, Infrastructure and Planning Department director-general David Edwards told the Sunshine Coast Council, which has received the Noosa on Weyba development application, the offset declaration "satisfies the requirements under the statutory guideline".
Mr Edwards said there was no contravention of proper procedure as claimed by Friends of Lake Weyba.
P&E Law consultant Lestar Manning wrote to Mr Seeney and the council, stating the government reply "does not address the fundamental issue raised in our correspondence".
"We have formed the view that the ostensible declaration has gone beyond (your) power and that as a consequence the application currently before council could not have been properly made," Mr Manning wrote.
The planning and environment law specialists have requested Mr Seeney provide them with his legal advice.
"Such that we can avoid the need to raise this matter in the Planning and Environment Court and avoid the potential costs of such action," Mr Manning said.
Mr Seeney's department wrote to the council on Wednesday last week to say it had made the Noosa on Weyba application of Northbrook Corporation as "an endorsed project to be facilitated by the Development Facilitation Services".
Noosa on Weyba is being marketed as a master-planned community for a proposed 876 dwellings, made up of aged care apartments, retirement living cottages, residential lots and a maximum of 50 apartments as well as townhouses plus a kiosk /tea house for the public.
Former Local Government Minister Paul Lucus announced the "declaration of Queensland's first bio-diversity offset area" in February last year.
Mr Lucus said the developers had to hand over privately 140ha of land to public ownership if a development application was approved to extend Noosa National Park.
"The land where the developer will be able to lodge a DA already has court approval for 24 holiday villas on one of the lots, but in order to further develop this, they have had to make other land available to the state for koala habitat," Mr Lucus said at the time.
The Northbrook Corporation development application states Noosa on Weyba would be developed under a community title structure and would include a mix of residential and retail, with the main access via Walter Hay Dr, Tidwell Rd and Hollett Rd.
A Weyba Locality Plan would allow for "more ecologically responsive road designs otherwise not achievable through a conventional subdivision".
Noosa on Weyba would feature four precincts with building heights of one to three storeys, including detached, small-lot duplexes, attached dwellings, aged care, retirement living, townhouses and units.
There would be a minimum density of 15 dwellings per hectare.
The application states a biodiversity development offset area would be for protection of 139.5ha of koala habitat and an expansion of the adjoining Noosa National Park would maintain a wildlife corridor.
This would link  the national park and the Sunshine Coast Regional Council Wildlife Refuge to the south-west of the site.
"Noosa on Weyba will feature some 90ha of high-value conservation lands," it states.
"In addition, the open space system within the potential development areas feature a wide range of inter-connected recreation and landscape spaces, including local parks, plazas, lakefront parks, linear parks, corridors/buffers and general multi-functional green spaces. Part of the proposed development site – the Tidswell Rd, Weyba Downs section – already has approval for rural holiday accommodation of 24 villas, spa, restaurant and on-site.
[button link="http://www.noosanews.com.au/news/friends-of-lake-issue-challenge/1800899/" type="icon" newwindow="yes"] News article link[/button]